Keynote Lecture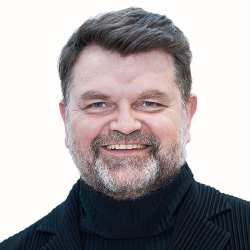 With the many global projects undertaken by BIG worldwide, Dr. Kai-Uwe Bergmann leads the business development aspects of them ranging from works in North America, Europe, Asia, to the Middle East, and more. Dr. Bergmann also presides over numerous other projects and landscaping schemes oriented to urban-planning.
Most recently, the one major project running under his supervision is the BIG-U Plan in the Manhattan district of New York City.
As for this Project, its ground-breaking is set to begin with Phase-1 work (4km span) commenced in 2020. Meanwhile, Dr. Bergmann is overseeing multiple other projects as well, such as the Brooklyn Queen's Park, the Smithsonian Master Plan, the Miami Beach Square plan, – only to name a few.
●About BIG -BJARKE INGELS GROUP-
Established in Copenhagen (Denmark) in the year 2005, BIG-BJARKE INGELS is a group of architects, designers, urbanists, landscape professionals, interior and product designers, researchers and inventors currently based in major cities such as the New York City, London, and Barcelona. The office is involved in the most up-to-date projects representing many countries around the world. One to be specifically named would be the ongoing works at Susono city of Shizuoka Prefecture (Japan) today, which is a project owned by Toyota Group and entrusted to BIG to go forth with the urban-designing of a Demonstration Town called the "Woven City" addressing future plots.

References will be made to those various projects undertaken by BJARKE-INGELS GROUP, the world's leading architectural-design office, about forefront-line models relating to waterfront area designs. For instance, facts relating to the NY-Manhattan BIG-U Plan will be shared, while introducing other innovative projects and about various workshop efforts done jointly with public involvement up till now, also at present. At the International Canal Forum NAGOYA 2020, the key theme of this conference, "Nagoya Model," will be elaborated on the world's eye perspectives and from the New York viewpoint together.
Date: May 21, 2021 (Friday) 11:00 – 12:00
Place: AICHI UNIVERSITY – Nagoya Campus, Global Convention Hall