Greetings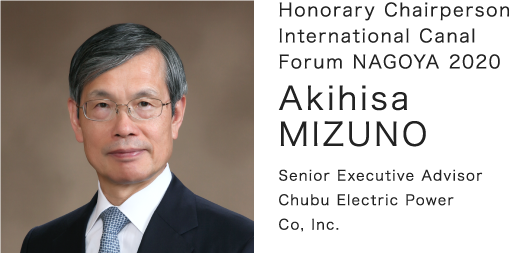 Throughout history, the Nakagawa Canal has always played a truly significant role over a diverse range, such as through supporting logistics of material goods, providing hydrological means, flood control, and more.
In Nagoya, back in 1930 when this Canal came to be used on a full-scale, operations started mainly with providing waterway transportation of freights between Nagoya Port and the former Kokutetsu* Sasashima Freight Depot, together with water management system refined over the downtown Nagoya areas. The canal has always supported the growth of this city's economy and industry, facilitated the living of local residents and community on the whole.
*National Railway
Since the mid-1960's, as more road constructions went ahead accelerating such network to spread consistently, the region's cargo transport shifted dramatically towards trucking, and therefore the role of Nakagawa Canal gradually decreased. Nevertheless, in 2012 the City of Nagoya and Nagoya Port Authority stood up to propose the so-called "Nakagawa Canal Rebirth Plan," addressing further area-development efforts to be made towards approximately 20 years ahead, – a plan whereby the watersides of Nakagawa Canal are integrated with more community-friendly sites established anew. This means developing spaces for interactions, people's art and creativity be exhibited, and alongside them plotting historical-town sites and heritage attractions. Such is the grand plan proposed to breathe in a flow of air afresh, and also towards the future create spaces, establish rigid tradition that can be inherited by the coming generations.
Rendering of attractive towns, as making use of many blessings found by the waterside has now become one major trend around the world. This time, kindly given the support from our local government bodies, many business and economic entities, along with other important stakeholders, we are pleased indeed to announce that the "International Canal Forum NAGOYA 2020" will unfold here in the City of Nagoya this year.
Through participation in this Forum, all the members attending shall discuss and share visions on how to best re-create sites by Nagoya's waterfront, develop sites where people can resort to, be inspired while also feeling relaxed. We would like to invite as many intellects and experts from both national and international sources to attend, all the specialists with rich experiences and knowledge of building towns over waterfront lots to gather about. There will surely be advanced, pilot projects and model examples brought up in many discussions and workshops during the forum, where the future of Nakagawa Canal can be thoroughly studied among everyone concerned.
With these plots and works schemed for canal-front spaces, the City of Nagoya is determined to aim for ever-greater growth, enrichment and prosperity. To do so, various functions are now being prepared and organized for the Forum so that everybody's spirit and the drive for canal's vitalization can here be more aroused upon this very special occasion.
Once again, let us take this moment to sincerely request for as many guests and stakeholders be present and take part in this International Canal Forum.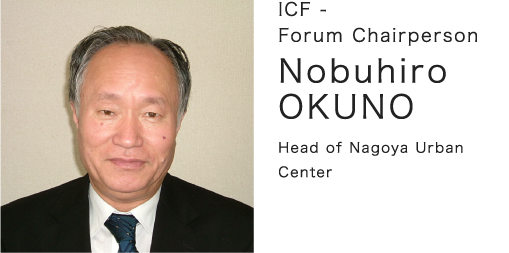 The International Canal Forum of 2020 will finally be held in Nagoya city this coming May 21 to the 23. Nakagawa Canal which connects the downtown areas of Nagoya to the seaport has been used as a waterborne transport channel since the Showa* period of Japan. It was during such period that this country enjoyed rapid growth of economy, where the canal played a truly vital, arterial role to support the booming of industrial development of Nagoya at the time. However eventually, the demands for using the canal lessened as transport and logistics shifted dramatically from maritime to more ground-based, trucking means, Gradually the vast waterfront assets could not help but be spared and became valued more as industrial heritage assets like they are today, which are now passed on to the hands of coming generations to take care of and sustain.
*Showa = (Dec. 1926 – Jan. 1989)
In the greater scheme sought by the Japanese government, Nagoya region has recently been named "The world's strongest and the most advanced "Monozukuri" hub", and also, "The center of "Monozukuri" Research & Development in the world."
How could anyone speak for the successful progress and prosperity achieved by Nagoya to this day, without ever mentioning the key role this canal had always played for this town and community throughout history.
*Monozukuri = Art of manufacturing, Craftsmanship
According to the "Super Mega-region" plot which the government is currently promoting, the foremost intention of it is to link the three big metropolitans* of Japan with the Linear Central Express Train running through. The intention is to seek for integrative benefits through offering "speed", and in such framework Nagoya to play the key, center role in enhancing this country's more progress and growth. And indeed, this city does really sit in the very center, the heart of it all.
*three big metropolitans = Tokyo, Nagoya, and Osaka
Owing to the within 2-hour rail commuting convenience and those advantages only possible by Nagoya Station terminal located where it is, are said to have twice as many benefits compared to Shin-Osaka station's; and moreover, it almost equals with even that of Shinagawa Station (in Tokyo). This can elevate future possibilities and advantages travel-wise, – also on the aspects of business, tourism, and for many other purposes alike.
There are rising expectations for Nakagawa Canal to function more as a place where community citizens can gather and resort to for relaxation and pure enjoyment too. For instance, already in the post-War days, these sites were used to venue boating tournaments in the National Athletic Competition series. As the waters here can never stress but embrace the community, and function more as healing spaces for everyone, such kind of events should continue to be held in ways enjoyable and pleasing to the commune.
Nakagawa Canal has been cared and protected jointly by civic groups and local administration offices cooperating, brought to the state that we see there today. And now, the International Canal Forum will be held with many public representatives such as them playing active roles at the core, in liaison with stakeholders from business and economic circles, local government bodies active in the region all supporting. At this time, may the whole meaning – the worthiness – of the Nakagawa Canal particularly in the modern era of today be redefined and recognized once more by Nagoya citizens. As considering this as our "one-time only" opportunity. this will be a truly rare chance to reach out to the world both inside and outside Japan, with the significant messages it must address and deliver.